Is Data in Emerging Markets less valuable than in Developed Markets?
Synopsis: Among the major issues ESG deals with, one of the least understood is Data and Information Security. A data breach doesn't just bring negative publicity to the companies, but also makes them vulnerable to loss of customer trust, government fines and lawsuits, along with impacting the stock price. In Emerging Markets (EM), either due to lack of awareness or less media attention, data breach incidents don't attract as much attention as in Developed Markets. The markets usually ignore these incidents in EM. Major incidents and their virtually negligible stock price impact for Weibo Corp. (Sina Weibo, the popular Chinese microblogging site), Jubilant Foodworks (Domino's Pizza India franchisee), Jollibee Foods (the leading fast-food chain of Philippines) and True Corp (Mobile operator in Thailand) are a few examples. While so far, the impact may have been lesser for EMs as compared to Developed Markets, this is most likely to change in the future. Are the investors prepared?
Data protection and Information Security is at the core of ESG
As Sustainability issues become mainstream, the focus on ESG investment continues to increase. Among the major issues ESG deals with, one of the least understood is Data and Information Security. Because of the importance data commands in modern times, ESG includes corporations being held accountable for how they handle sensitive consumer data and how robust their Data Privacy and Protection policies are. Companies are considering data protection a strategic initiative and a key priority because data breach doesn't just bring negative publicity to them; it also makes them vulnerable to loss of customer trust, government fines and lawsuits. It is clear that protection of data privacy can't be ignored if the companies have to retain the trust of customers and users.
Data breach cases grab headlines in Developed Markets
'Data is the New Oil' may be a cliché but to understand how much value personal information and user data has, just a look at the stock prices of Facebook, Amazon, Alphabet and other tech companies is sufficient. It is no surprise then that any incident of data breach creates headlines not just in the business bulletin but also in the mainstream media. Such incidents don't spare the stock price either.
Capital One – On 29th July 2019, a hacker gained access to more than 100 million Capital One customers' accounts and credit card applications. According to the bank and the US Department of Justice, the hack resulted in unauthorised access to 140,000 Social Security numbers, 1 million Canadian Social Insurance numbers and 80,000 bank account numbers, in addition to an undisclosed number of people's names, addresses, credit scores, credit limits, balances, and other information. The breach affected around 100 million people in the United States and about 6 million people in Canada, according to Capital One. Following the news, the stock was down 6% the next day.
Marriott Starwood – On 30th November 2018, the Hotel chain Marriott confirmed reports of significant data breach with sensitive details of 500 million customers possibly compromised. In an online statement, the company said: "On September 8, 2018, Marriott received an alert from an internal security tool regarding an attempt to access the Starwood guest reservation database." The information about guests included names, mailing addresses, phone numbers, email addresses and passport numbers. The stock was down 5.6% following the disclosure.
Facebook – On 28th September 2018, Facebook disclosed that it had suffered a security breach, possibly impacting as many as 50 million users. Its share price was down almost 3% that day. A few weeks later, the company clarified that only 30 million users had been affected, but among them, 14 million had their names, contact information, gender, relationship status and other sensitive information exposed, as reported by CNBC. Facebook's stock price dropped again on admission by the company.
Although data breach does affect the stock price of companies, it doesn't necessarily happen in every case.
Zynga – In September 2019, a password breach of online gaming company Zynga Inc. affected approximately 200m users. There was a chance that log-in information such as email addresses, usernames, passwords, and more of players playing 'Draw Something' and 'Words With Friends' may have been accessed, as reported by bvainc.com Zynga contacted the affected users at the time. According to the company, no financial information was accessed. In December 2019, it was announced by a data breach monitoring website that the stolen database contained information on 172,869,660 unique accounts. Even though the data breach was huge, there was not much stock price impact as this development was completely ignored by the market.
Quest Diagnostics – In June 2019, Quest Diagnostics confirmed that a third-party billing company had been hit by a data breach affecting 11.9 million patients. The laboratory testing company revealed the data breach in a filing with the Securities and Exchange Commission. According to the filing, the breach was a result of malicious activity on the payment pages of the American Medical Collection Agency, a third-party collections vendor for Quest. The "unauthorized user" siphoned off credit card numbers, medical information and personal data from the site. There was hardly any impact on the stock price as this development was also completely ignored by the market.
Do Data related incidents get ignored by investors in Emerging Markets
Because of either lack of awareness or low media interest, data breach incidents don't attract much attention in EMs. In addition, either the investors realise that the potential business impact won't be significant or they think that these issues won't have long-term consequences. Usually the markets also ignore these incidents in EMs. Below are some instances:
Weibo Corp. (Sina Weibo, the popular Chinese microblogging site)
In March 2020, the Chinese microblogging site Sina Weibo suffered a data breach exposing 538 million records and the stolen data was put up for sale on the dark web. Around 538 million users' information were circulating online that hackers had stolen from Weibo. Weibo officials also confirmed the breach, but they did not relate it to an attack on their systems. The phone numbers of many Sina Weibo users, including celebrities, entrepreneurs and public servants, were leaked, social media accounts reported on March 19, 2020. The stock price didn't react much to this news.
Table 1: Weibo Corp (WB) Stock Price Chart (NASDAQ)
Source: https://www.investing.com/equities/weibo-corp-historical-data
Jubilant Foodworks (Domino's Pizza India franchisee)
In May 2021, Jubilant Foodworks informed its customers about the data breach incident that took place on March 24 and that leaked its customer data. A few days ago, hackers had created a search engine on the dark web with customer details of Domino's India. The company had initially confirmed its data breach to the media in April. "Jubilant Foodworks experienced an information security incident on 24th March, 2021 wherein our systems were attacked by a hacker," the company said in an email to its customers. "We moved quickly to contain the breach and hired an external agency to do an impact assessment." Here also, there was no considerable impact on the stock price movement.
Table 2: Jubilant Foodworks Ltd (JUBI) Stock Price Chart (NSE)
Source: https://www.investing.com/equities/jubilant-foodworks-historical-data
Jollibee Foods Corp (JFC, the leading fast food chain of Philippines)
Jollibee Foods Corp. operates fast food stores under the trade name Jollibee in Philippines, and it is one of the largest such chains in the country. The company runs quick service restaurants and also sells through franchised outlets. In May 2018, the National Privacy Commission (NPC) of Philippines ordered Jollibee Foods to suspend its online food delivery operations and implement preventive website security measures after a data breach incident in December 2017 exposed Jollibee's customer database. On May 4, 2018, the NPC said that Jollibee's data privacy officer informed the Commission that on December 8, 2017, "persons unknown to the JFC Group appeared to have been able to gain access to the customer database of the delivery website for Jollibee." Following the news, the stock price of Jollibee Foods Corp (JFC) was hardly affected.
Table 3: Jollibee Foods Corp (JFC) Stock Price Chart (Philippine Stock Exchange)
Source: https://www.investing.com/equities/jollibee-foods-historical-data
True Corp (Mobile operator in Thailand)
True Corp is one of the leading mobile operators in Thailand and the flagship company of Charoen Pokphand Group. In April 2018, Norway-based security researcher Niall Merrigan said in his personal blog that he was able to access 32 gigabytes of True's customer data, including identification cards, and that he had notified True in March about the security breach. True said the leak was fixed on April 12 and added that the data was private and that customers' information was hacked by Merrigan. Thailand's National Broadcasting and Telecommunications Commission (NBTC) said it would ask Thailand's five main mobile operators to clearly outline their data protection measures. The stock price didn't react much to this.
Table 4: True Corporation PCL (Stock Exchange of Thailand)
Source: https://www.investing.com/equities/true-corporati-historical-data
Toyota's Subsidiaries (in Thailand and Vietnam)
In March 2019, Japan's Toyota Motor Corporation revealed that unauthorised access had been detected on servers at its subsidiaries in Thailand and Vietnam. On its Thai website, Toyota issued a notice stating that the company was "aware of a possibility that some of Toyota's entities in Thailand were targeted by a cyberattack and that some of its customer data may have been potentially accessed. While we have no evidence of customer information loss at this moment, details are currently under investigation, and we intend to share further specifics, if any, as soon as details are available." A similar notice was published on its Vietnamese website. Toyota is a global organization and operates through multiple subsidiaries in many different countries. Ideally, such incidents should not impact its stock price. And yes indeed, that was the case.
Fig. 1: Toyota Stock Price over last five years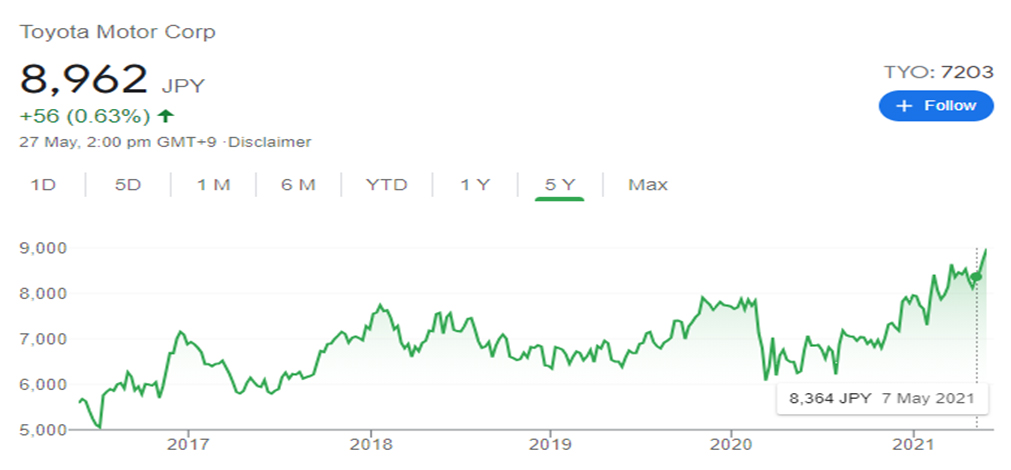 Source: Google
Data Security will get more prominent in EMs too
While so far, the level of impact from data breach incidents may have been lesser for Emerging Markets as compared to Developed Markets, this is most likely going to change. For example, even the broader ESG issues first picked up pace in Developed Markets but now the EMs are catching up fast. The EM investors, therefore, need to be on top of data related developments. How can this be achieved and how EMAlpha can help?
Go beyond the official reported version – The data source matters and there is a need to look beyond what the companies are reporting and what the official version is. The EMAlpha algorithms scan through unstructured data to pick up the unofficial information too. That's because often in data breach incidents, unofficial leaks appear first. The official confirmation may or may not even come but the unverified reports will be the first to highlight such incidents.
Importance of local news – The local news flow collection picks up issues like what's happening with local regulator and how is the data breach investigation going, earlier than the English media and for stocks where it is the most important. The local language along with English news analysis can be tracked for such issues. The extent of data breaches and the potential fallout is usually better predicted using local news analysis.
The shareholding in a company – Some of the global investors have become more vocal on ESG issues and predicting the behaviour of large institutional investors on the basis of where they stand on issues like data breach is useful because it can help forecast the stock price impact. EMAlpha product combines technology with domain expertise. The analysis by EMAlpha is useful in picking up signals on the views of institutional investors.
EMAlpha Products and Services
In most Emerging Markets, information discovery is a major challenge. For example, even if global investors do show interest, how do they solve the problem of timely access to information? The world's largest capital allocators hold USD 60 trillion and they include GPIF (Japan), GPF (Norway), ADIA (Abu Dhabi), GIC (Singapore) etc. However, only 10% of the capital gets allocated to EMs and ~90% goes to G10. The big hurdle for EMs is: Foreign investors cannot access relevant local information in a timely fashion.
Most market participants and investors from across the world realise that the low rates in G10 makes EM attractive for investors. But, a) Information access is usually a cost and time intensive process for investors, and b) In many EMs, language is a big barrier and because of multiple regional languages, there is a significant delay before news makes it to the mainstream English language. To address these issues, you need solutions like, a) Real time news collection from multiple languages and, b) Instantaneous machine translation and text analytics leading to actionable recommendations for investors.
There are further challenges such as ensuring that companies behave responsibly and that they adopt sustainable business practices. There is a need to ensure that the investors are contributing towards making the world a better place by making investment decisions which reward responsible behaviour of companies. Case in point, ESG (Environmental, Social & Governance) which is increasingly being used as a filter for investment decisions. There are other issues as well such as which data to use and a lack of a standardized framework for evaluation.
Some of these issues are too important to be postponed to a later date and it is in this regard that EMAlpha is making its contribution. EMAlpha has developed a Flexible ESG Framework Management System which is a proprietary technology that makes ESG scores framework agnostic, thus allowing for quick adaptation. In addition, the users decide what matters to them and the EMAlpha system does a classification into E, S, G and more granular categories.
EMAlpha also has solutions for Multilingual data collection and real time targeted information which are based on proprietary processes to collect relevant data across multiple markets. The coverage expands across emerging market equity, currencies and commodities and the work has also been very successful in testing the signals in some key markets for live trading strategies. This is a continuous cycle and a virtuous loop that allows for iterative improvement through AI-human feedback.
With developments in AI and technology in areas like NLP, there are considerable new possibilities to bridge the gap in information between Emerging Markets and the more Developed Markets. This is an area which is turning out to be very exciting because some of the tools mentioned were not available even a couple of years ago. This implies that the evolution in the field will only get faster as time goes on. While the Emerging Markets and the Capital Flow Conundrum is a complex one, there is now much more hope and optimism that with the usage of technology, things will only get better.
At EMAlpha, the ESG team is doing further research on why some issues like Social get more prominence as compared to others like Environmental or Governance issues. To look at specific cases in the context of ESG is a very intense yet interesting exercise and this has been an incredible learning experience for the EMAlpha Research team. The data, information and ratings are a humongous challenge for ESG and it takes time to reach to the depth of the issues as the field is evolving very quickly.
EMAlpha is making a solid contribution in tackling these challenges. EMAlpha has solutions for ESG which are practical, user friendly and although not too simplistic yet easy to use. EMAlpha has developed a Flexible ESG Framework Management System which is a proprietary technology that makes ESG scores framework agnostic, thus allowing for quick adaptation. In addition, the users decide what matters to them and the EMAlpha system does a classification into E, S, G and more granular categories.
We strongly believe that the entire ESG ecosystem requires multiple stakeholders to pull in the right direction in order to make it operational and that will be the most critically determining factor for ESG's success in making the corporate responsibility actually work. Most importantly, the investors should view 'E', 'S' and 'G' individually and should not confound issues when it comes to the comprehensive ESG evaluation. It is important to understand the right reasons behind ESG investing because this bias could hurt their investment decision making and portfolio performance.
Research Team
EM Alpha LLC
For more EMAlpha Insights on Emerging Markets, please visit https://emalpha.com/insights/. To know how you can use EMAlpha's unstructured data and ESG (Environmental, Social and Governance) solutions for better investment decisions, please email us at [email protected].
About EMAlpha:
EMAlpha, a data analytics and investment management firm focused on making Emerging Markets (EMs) more accessible to global investors and unlocking EM investing using machines. EMAlpha's focus is on Unstructured Data as the EMs are particularly susceptible to swings in news flow driven investor sentiment. EMAlpha works on information discovery and ESG solutions for Investors in Emerging Markets, using AI and NLP tech. Our mission is: "To help increase capital flow, in terms of FDI and FPI, to Emerging Markets by lowering information barriers using AI/NLP". EMAlpha Products help achieve both alpha and ESG solutions and the idea is to help asset allocators, asset managers, banks and hedge funds along with companies with cost and time efficient access to relevant information. We use thoroughly researched machine learning tools to track evolving sentiment specifically towards EMs and EMAlpha pays special attention to the timely measurement of news sentiment for investors as these markets can be finicky and sentiment can be capricious. Our team members have deep expertise in research and trading in multiple Emerging Markets and EMAlpha's collaborative approach to combining machine learning tools with a fundamental approach help us understand these markets better.
Disclaimer:
This insight article is provided for informational purposes only. The information included in this article should not be used as the sole basis for making a decision as to whether or not to invest in any particular security. In making an investment decision, you must rely on your own examination of the securities and the terms of the offering. You should not construe the contents of these materials as legal, tax, investment or other advice, or a recommendation to purchase or sell any particular security. The information included in this article is based upon information reasonably available to EMAlpha as of the date noted herein. Furthermore, the information included in this site has been obtained from sources that EMAlpha believes to be reliable; however, these sources cannot be guaranteed as to their accuracy or completeness. Information contained in this insight article does not purport to be complete, nor does EMAlpha undertake any duty to update the information set forth herein. No representation, warranty or undertaking, express or implied, is given as to the accuracy or completeness of the information contained herein, by EMAlpha, its members, partners or employees, and no liability is accepted by such persons for the accuracy or completeness of any such information. This article contains certain "forward-looking statements," which may be identified by the use of such words as "believe," "expect," "anticipate," "should," "planned," "estimated," "potential," "outlook," "forecast," "plan" and other similar terms. Examples of forward-looking statements include, but are not limited to, estimates with respect to financial condition, results of operations, and success or lack of success of certain investment strategy. All are subject to various factors, including, but not limited to, general and local economic conditions, changing levels of competition within certain industries and markets, changes in interest rates, changes in legislation or regulation, and other economic, competitive, governmental, regulatory and technological factors affecting the operations of the companies identified herein, any or all of which could cause actual results to differ materially from projected results.